Bethany, 2010
I don't know why it was her face that I couldn't forget. Out of hundreds of children, her smile made a home in my heart more than any other. My dreams for her have been big and beautiful. Maybe these dreams that God has given me for Bethany were her own, and I was just given the priveledge of praying them for her life. Or maybe these dreams for her are grander than she could ever imagine.
But either way, these dreams, they are coming true.
In a short time, Bethany and her sister Erin will be going home with the Friedls, their forever family.

They will know a Momma and Daddy who love and cherish them. They will have siblings to laugh and play with. They will have a safe home. They will even have a sweet bedroom prepared with all the love and care in the world, that any little girl would be blessed to have.
These little girls, they are so very loved.

Bethany and Erin, 2011

And soon, they will get to experience this love first hand.
Please, join me in praying that as Craig and Bree travel to pick up their daughters, that all will go impossibly smooth. Pray that communication would be open between them and the girls, as well as all the officials they must go through in the adoption process.
The Friedl family is still in the process of raising funds for travel, which is SOON, so if you would like to help them get to Eastern Europe to bring these sweet girls home, any amount of support would be greatly appreciated. Donations may be made through their Reece's Rainbow page, which can be found by clicking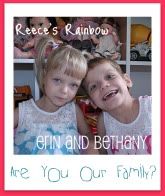 I'll leave you with a couple of the most recent photos taken of Bethany and Erin. As you can see, these girls need to come home.
Erin, 2012
Bethany, 2012