In your face...
Okay, so I really shouldn't be so boastful considering that I am only three months into a two year program. But honestly, working a full-time job, a part-time job, and taking 18 units... I have been working my hiney off, so I get to boast a little.
In other unrelated and less egotistical news:
I made beautiful miss Yelena a new button. If you haven't done so yet, please consider sharing her button on your blog, and share her
Reece's Rainbow profile page
or one of
these
posts while you are at it (on your blog or networking sites, like facebook or twitter).
Calling on Angels
Breaking Down Barriers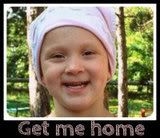 I am happy to announce that
Yelena's adoption grant
has grown by over $400 in the last couple of weeks. For several days though it seems to be stuck, and I would love for someone to donate $20 to push her over the $500 mark! If you have that amount (or any amount) that you are willing to spare or sacrifice, you can donate
here
.
By this time next year I pray that Yelena is home, doing this, with her forever family.
Is it just me, or does Dasha laughing bring tears of joy to your eyes too?
Thank you to all of you who continue to share and give. If you haven't done so yet, follow along on my semi-new Facebook community, where I am attempting to be more faithful in sharing stories of some of God's most precious children around the world who need some extra love.