Around the world today there are approximately 143 million orphans, many of them waiting for their forever families to find them.
The numbers are overwhelming. Sometimes it is easy to let the numbers paralyze. But each of these children have names, faces, personalities, dreams.
Today I am going to introduce you to one of them.
This is Bethany. She is five years old and is from Eastern Europe. She has delays in psychomotor and physical development, as well as being HIV+.
Bethany will turn 6 years old in March of 2012. At this time she will likely be moved to a larger institution for older children, where her care and chances of being adopted will greatly decrease. Sadly, because of her HIV status, this means her chances of survival will decrease as well.
Two days ago I saw Bethany for the first time, and I couldn't stop thinking about her; so today I became her warrior.
Bethany is a
Reece's Rainbow
child. As her warrior, I have taken the honor of advocating for Bethany, as well as raising funds for her adoption. Many families who would like to adopt just don't have the financial resources to do so. By having funds available to help with the cost of her adoption, it will increase the chances of finding Bethany's family.
There are a few ways you can help connect Bethany with her forever family.
You can donate through
Bethany's page
at Reece's Rainbow. All donations are tax deductible and will help get this angel girl home where she belongs.
You can also help by spreading the word about Bethany. The more people who see her darling face, the better the chance her family will see her. Feel free to share her page on facebook, twitter, or anywhere else that people gather! Also, you can grab her button to share on your blog. (I created a button, be impressed.)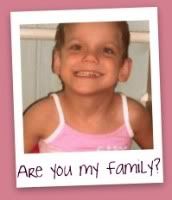 The task of finding this sweet girl her family by March can feel a bit intimidating, but I have no doubt that God has the perfect family ready and waiting to find their daughter. I hope you'll join me in warrioring for Bethany to make this possible!
If you would like to become a warrior for a waiting child with special needs, please visit
Reece's Rainbow
.