I want to take just a moment to give you all an amazing opportunity to bless some beautiful children in Zimbabwe through buying stuff you already buy.
LambShops
is and organization which partners with businesses and non-profits to give a percentage of the money you spend on practically anything online to a cause of your choice.
I have added a button on the upper right hand side of my page that will take you to LambShops, where you can do your online shopping, and meanwhile benefit
Beautiful Feet Global Outreach
.
LambShops has partnered with so many online businesses, that through them you can purchase pretty much anything you can dream of~ from airline tickets and hotel reservations to shoes, books, and yes, pickles. (And it is no extra money out of your pocket.)
So, before you make your next online purchase, I would encourage you to check out Lambshops and consider buying in honor of Beautiful Feet Global Outreach.
Just click here: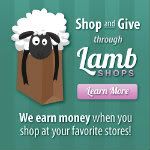 And, if you are as excited about this as I am and want to add this button to your blog too, just copy and paste the code from the code box, and add it as an html in your layout or your post.
Happy Shopping!