My friends, this week Reece's Rainbow revealed the wonderful family who is working towards adopting Bethany and Erin! Prayerfully, in the near future, Bethany and Erin will be going home to their parents Craig and Bree, as well as their 4 new siblings.
There is still a long process ahead to actually get theses girls home, part of which is raising the necessary funds. I have updated the link on Erin and Bethany's button. It will now direct you to their family's page, where you can read more about the awesome people who are welcoming these girls home, as well as make donations towards their adoption.
To go to their new page you can click on their button, and if you would like to continue helping me spread the word, you can grab the code in the box below.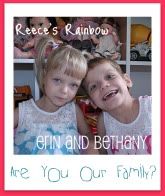 I absolutely dream of the day I see these sisters in the arms of their daddy and mamma.